[I have something to say + Chat + Greetings + Hello!]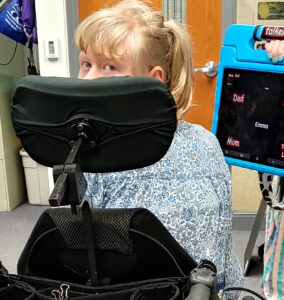 Those eyes belong to Emma, the talker is hers too.
And, while I'd love to say we have it all figured out, nailed down and are done designing her system, I'd be lying.
Communication is messy. Designing a scratch system to address CVI (Cortical Visual Impairment) and give Emma access to a robust language system is an ever evolving process.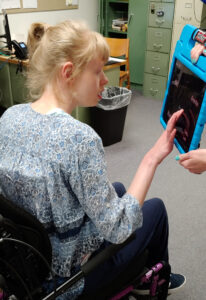 It took us a lot of years to find a way to provide visual access to our daughter with CCN (complex communication needs). If sharing how we did helps you, we are all the happier to have you join us on our journey and to join in yours.
We hope you are as inspired by Emma's determination and desire to be more apart of her world as we are. Our kids are amazing, if only we give them an opportunity and tools they can use to show the world that truth!
xoxo,
Emma, Lynn & Don
What's on currnetly our mind?
To check out what's going on with us at the moment (relatively speaking), pop on over to the InstaFeed page.